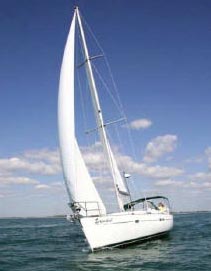 SAILING, SHELLING, SUNSETS
Sailing is an ideal option for the pristine waters and warm breezes of the Gulf of Mexico. We offer an array of sailing options from the spacious 53-foot, 42-passenger catamaran Sweet Liberty to luxurious six passenger sailing yachts (such as the Serenidad shown below). All vessels provide an ideal venue for sunset events events for two or 42 persons. Another favorite option is to enjoy sunset and refreshments on-board then cruise to one of the area's waterfront restaurants for a leisurely, after-sail respite.
If it's fun, and on the water…we do it!
About shelling…one of the great attractions of the 10,000 Islands area of the Everglades is the lure of these barrier islands and their unique and abundant shells. The Sweet Liberty is the ideal sailing vessel for easy island access and sun-sational shelling excursions.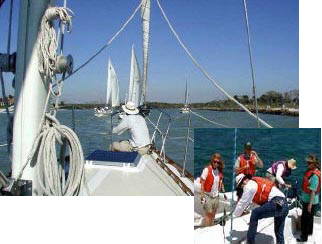 Sailing Regatta
Not the America's Cup but a great deal less work and a lot more exhilarating for the participants, the sailing regatta excites and involves every participant. Its objective is to be fun and effective for groups of all sailing experience levels (including no experience at all!). Teams are assigned to six-passenger sailing yachts aboard which professional captains, all of whom are by nature superb team builders, dedicated to the purpose of demonstrating winning tactics.
Team members are invited to participate in boat handling, sail handling, navigation and tactical management as they compete for the honor of being the winning TEAM (on board and on land!). Boats are handicapped using PHRF (Performance Handling Rating Formula) to achieve a fair competitive environment among the participating teams. Rest rooms on board.